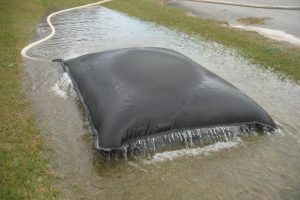 Made of a durable, porous geotextile fabric, dewatering bags are a type of filtration bag that allows water to pass through while trapping debris, sediment, and other particles. Primarily used for Best Management Practice (BMP) purposes to prevent the runoff and flow of contaminants and sediment into local bodies of water, dewatering bags are also used to expedite construction on sites after a storm event when standing water exists in these areas. Because of dewatering bags, contractors are able to pump the water from a job site to a drain on the site without depositing sediment into an area where it is not supposed to go. They are specifically designed to remove the sediment from the water and prevent contamination of water sources from occurring.
What is Dewatering?
Projects that require excavation often require a process known as dewatering. Put simply, it is the process by which groundwater is removed on a construction site to allow safe excavation in a more stable, workable and drier environment. It can be very hard and unsafe for heavy machinery to operate on wet ground. Not only does this excess water pose a safety hazard for construction workers, it poses a threat to the project budget because it can delay the continuation of the project.
Excavation during construction changes the natural layout of the land. BMPs must be followed when water is removed from a construction site to prevent contamination, corrosion or any other problems that can occur as a result of the excavation. While it is important to remove groundwater on construction sites to help construction projects progress efficiently, it is vital that where that extra water may end up be taken into consideration. The best location for discharge is far away from drinking water sources and other bodies of water.
Dewatering is used for construction site safety, installing underground structures or utilities, ensuring everything above ground stays structurally sound, and to make moving earth easier. Dewatering offers the perfect, environmentally sound solution for moving excess water. Dewatering bags are used in trouble areas where sediment is known to accumulate, like construction sites, stormwater runoff areas, and drainage ditches.
Dewatering Bags Manufactured in the US
Also known as sediment filter bags, dewatering bags proudly manufactured by Winfab in the USA provide the perfect economical solution for any site needing to remove silt and sediment from their discharge. Constructed from robust geotextile filter fabric, Winfab's dewatering bags help contractors meet local and federal stormwater regulations by catching and containing sediment as water is pumped from their site. Every dewatering bag manufactured by Winfab is constructed with components that meet USDOT Erosion and Sediment Control requirements.
A leader in the industry, Winfab Dewatering Bags are manufactured to custom sizes depending on the individual project's need. Bags are produced using nonwoven geotextile fabrics but can also be produced using woven geotextile filter fabrics to meet the needs of any application.
Available in versatile sizes and constructions, Winfab Dewatering Bags are the perfect choice for construction sites, dredging areas, power plants, swampy areas, coal slurries, and more. With Winfab, you never have to worry about low inventory when you need dewatering bags for your project. We always maintain healthy inventory levels of these items and are able to easily place them on the back of trucks with other geotextile orders.
Since 1994, WINFAB has specialized in the domestic manufacturing of high-performance geotextile and industrial fabrics engineered for civil construction and environmental applications. Winfab is an American-owned and operated organization with two production facilities located in the heart of Georgia. We are driven to support the industry by delivering continual improvement and innovation of products, superior customer service, and reinforcing America's investment in our future, our communities, and our environment. Contact us today for a quote.